At Crosstown Chiropractic in Ham Lake, MN, we offer a variety of chiropractic services that help each of our patients find relief from injuries, chronic pain, and other ailments. Our chiropractor is committed to providing individualized care so you can return to a healthy, pain-free life.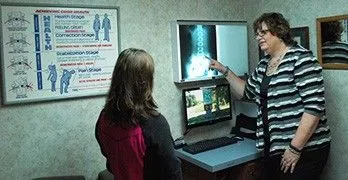 Chiropractic Care
Our chiropractic care methods focus on the alignment of the spine. Our chiropractors can manually adjust the spine and other parts of the body to alleviate tension, pressure, and pain. A properly aligned spine is vital for overall wellness and healing. The adjustments methods we use are innovative, safe, and effective. Adjustments can be manual or instrument-assisted.
Pediatric Chiropractic
Children with chronic illnesses and sports injuries often benefit from chiropractic care. Stretches, physiotherapy, and corrective exercises can help children recover more quickly.
Prenatal Chiropractic
Prenatal chiropractic treatment can often help alleviate aches and pains in pregnant women. Regular sessions may also lead to an easier birthing experience.
Corrective Exercises
Our chiropractor can give you stretching and strengthening exercises to do in addition to your treatment plan. Exercises, when performed correctly, can help your body find proper alignment while also building strength and flexibility. They also improve your range of motion and lower your risk of future injuries. Adding exercises to your treatment will speed up your recovery time.
Lifestyle Advice
Many of our clients benefit from helpful advice that allows them to achieve physical and emotional wellness. If you are looking for lifestyle coaching, our team can help you work through health challenges posed by injuries, chronic conditions, and more.
Nutritional Counseling
Our chiropractors help you balance your diet, ensuring that you avoid vitamin deficiencies and trigger foods. Nutritional counseling helps you get to your optimal health by balancing your diet with healthy foods, including each of the macronutrients your body needs. If you have a chronic illness, nutritional counseling can help you avoid the triggers that lead to inflammation and pain.
Spinal and Postural Screenings
Spinal screenings identify any issues with alignment. Your posture can impact everything from your neck and shoulders to your lower back. Screenings reveal any issues causing an imbalance that leads to pain and misalignment.
Auto Accident Injury and Personal Injury
Injuries are one of the main things we treat. A car accident or slip and fall injury can lead to chronic pain. Our chiropractors provide adjustments, physiotherapy, and other therapeutic techniques for those suffering from injuries.
Physiotherapy
Physiotherapy involves a variety of treatment options, including exercises, massages, and muscle stimulation. We use a variety of techniques to promote a whole-body approach to injury treatment and wellness.
Ultrasound
Ultrasound therapy uses sound waves to target specific parts of the body that are in pain, inflamed, or stiff. A handheld ultrasound wand can ease stiff, sore muscles.
Orthotics
Your feet can cause a variety of problems, including hip pain, knee pain, and sciatica. When your feet are causing pain, custom orthotics can help. These devices, which fit comfortably into the shoes, can provide stability and balance.
Schedule an Appointment with Our Chiropractor in Ham Lake, MN Today
At Crosstown Chiropractic in Ham Lake, MN, our team wants to meet the needs of each and every patient. Call us today to schedule an appointment.